17th Annual Japanese Classic Car Show 2022
September 10, 2022 @ 9:00 am

-

3:00 pm
17th Annual Japanese Classic Car Show 2022 – Marina Green Park, Long Beach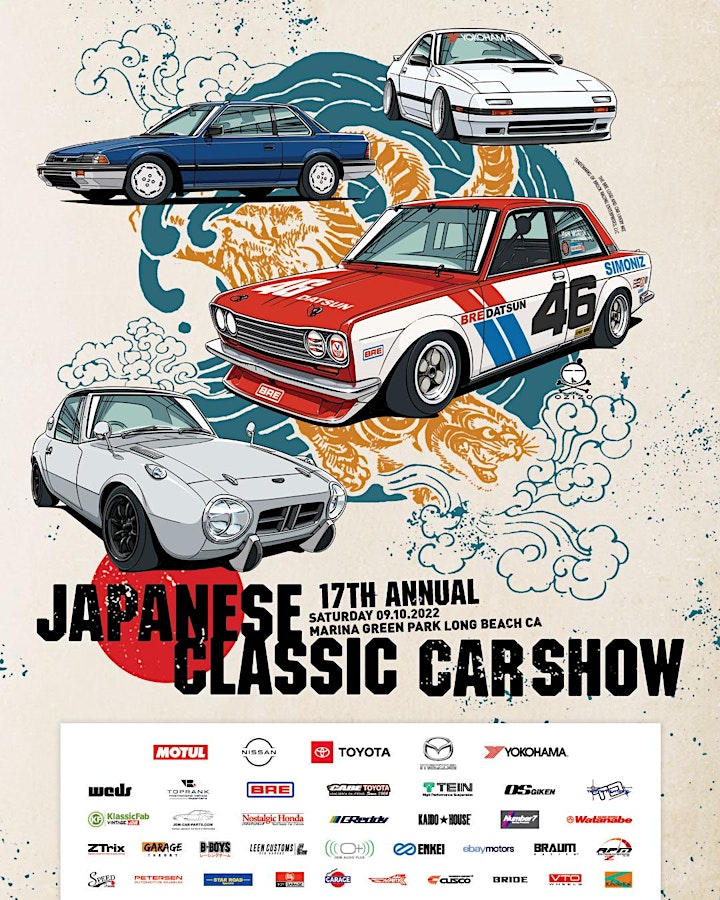 Please come and enjoy our 17th Annual Japanese Classic Car Show, back home at Marina Green Park, Long Beach, CA!
Adult Admission $20 per person / Kids under 12 are free with an adult entry
LIABILITY WAIVER: FOR EVERY TICKET HOLDER, PARTICIPATING IN THIS EVENT. In consideration of the right to participate in 17th Annual Japanese Classic Car Show, entrants, by execution of this registration form release and discharge JCCS®, the Car Show, city of Long Beach and its officials, members, staff and volunteers, from any and all known damages, injuries or judgments and/or claims from any case that may be suffered by an entrant to his person or property. I agree to observe all rules and decisions of event management by entering to this event. Event organizers, Marina Green Park and city of Long Beach will not be held responsible if you or anyone affiliated with you are exposed or diagnosed with COVID while or after being at the event. By registering with this consent, you are held solely responsible for your safety and precautions you must take for your participation.
Privacy Policy: Registration information will not be sold or shared for any purposes other than collecting as a part of COVID19 safety plan.
Safety Health Guideline in this event:
State of California recomends everyone wear a mask. If you are not vaccinated, and we suggest even those who are vaccinated to wear masks, especially in large crowds like JCCS.
*THIS IS NOT FOR A SHOW-CAR TO ENTER
*PLEASE PRINT OUT THE TICKET FOR YOUR SMOOTH CHECK-IN.
Ticket does NOT include PARKING. Please use any public parking in Long Beach. Our event page for more parking info here:
Any stolen items, loss, or injury is at your own risk by attending this event.
Outside food is NOT allowed. Beverages are welcome in small or clear water bottles. Large thermoflask or containers are subject to inspection.
Credit card or touchless payment is preferred for this event, however some vendors may not have that payment option.
By purchase of a ticket to this event, you are responsible for the knowledge of any information provided on all the below links.
Visitor information page for this event here:
California Department of Public Health page for any COVID related updates and announcements here: