December 10, 2023 @2:43 am
Make Your Reservations for Enlight: Veterans Day Celebration 21+ inside Alegria Nightclub in Long Beach, CA on Sunday, November 12th!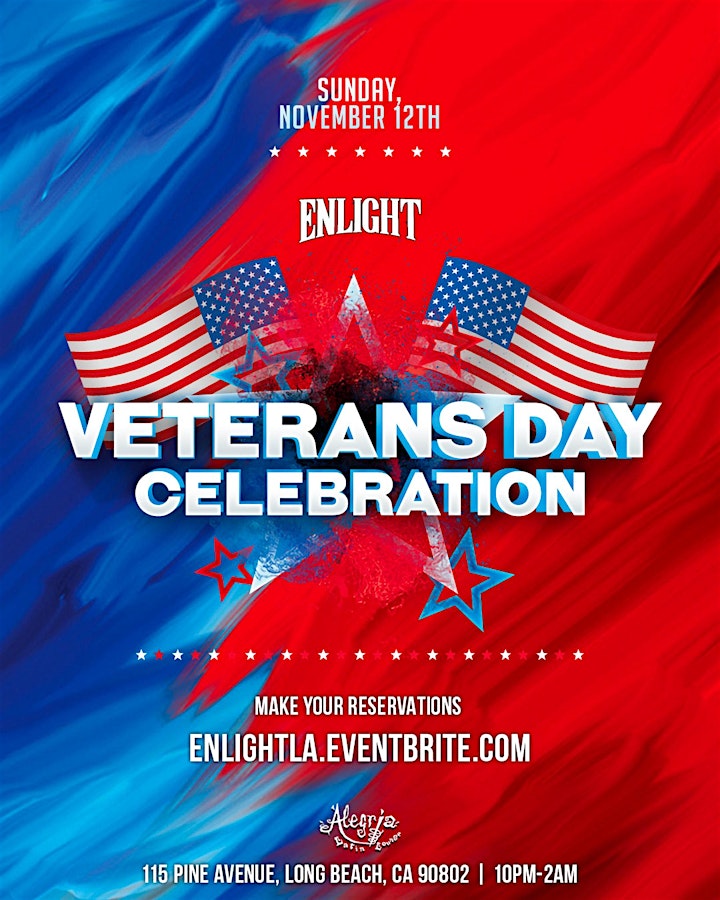 Reggaeton · Top 40's · Hip Hop
Trendy/Fashionable Attire
A Government Issued ID (Driver License, State ID, or Passport) is required to enter the venue
Bottle Services Available – Text "Enlight VIP" to 714.200.4706 for Bottle Reservations.
All Veterans and Active-Duty Personnel with Military ID receive FREE Entry all night without waiting in the regular, long line.
Get Your Tickets to our event:
Eventbrite RSVP: FREE Entry before 10:30pm
$5 General Admission (Early Bird)
$10 VIP Admission (Early Bird)
For Guests with Eventbrite RSVP: Guests must check in before 10:30pm to go in for FREE. After 10:30pm, Cover charge will be enforced. Guests must have their Government Issued ID and their Eventbrite Reservation ready to be checked in for discounted prices.
For Guests without tickets: Guests will be charged a $20 cover charge throughout the night.
Follow us on Instagram Southern California Nightlife for all our upcoming events in SoCal!
For more information about the event, text "Veterans Day" to 714.200.4706