December 10, 2023 @1:37 am
Get Your Tickets for FUSE: College Thursdays 18+ in Long Beach, CA on Thursday, November 30th!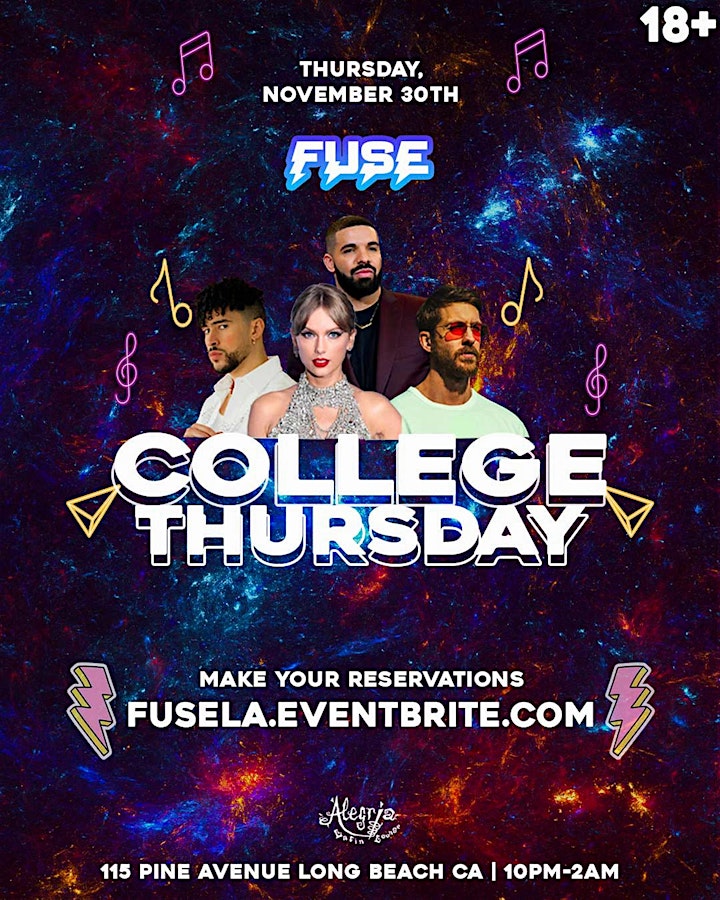 Must be 18+ to Enter & 21+ to Drink
Hip Hop · Top 40's · Latin · EDM · Pop
Trendy/Fashionable Attire
A Government Issued ID (Driver License, State ID, or Passport) is required to enter the venue
Drink Specials (2×1 Well Drinks, $7 Mexican Candy Shots, & $8 Margaritas Specials) before 11pm!
Bottle (750ml) prices starting at $150! Text "FUSE BOTTLE" to 714.200.4706 for Bottle Reservations.
November Birthday Specials are available! Simply text "FUSE B-DAY" to 714.200.4706 for more information!
Get Your Early Bird Tickets to our event:
$5 General Admission (Early Bird)
$10 VIP Admission (Early Bird)
No Eventbrite RSVP: $20 all night
For Guests without tickets: Guests will be charged a $20 cover charge throughout the night.
Cover can be paid in cash or debit/credit card. There is an additional $3 fee with each debit/credit card transaction.
Follow us Instagram FusePartyLA for more upcoming events!
Follow Southern California Nightlife to stay updated with all our events in SoCal!
For more information about the event, text "FUSE" to 714.200.4706