December 10, 2023 @3:50 am
 **Saturday Day Party Vibes in LBC** Come vibe with us at Rise N Reggae Brunch and Bashment Party in downtown Long Beach!
Get ready to enjoy a Caribbean influenced brunch, some rum punch and the best in Roots Reggae, Dancehall, and Afrobeats brought to you by top Selectahs Mystacrooks, Dj Sabeerah , and Dj Courtesy!
Date: Saturday October 21st, 2023
Time: 1:00 PM – 6:00 PM
Venue: At the Top in Pine Square
105 W Broadway, Long Beach, CA 90802
21 and over
Brunch Served 1pm -3pm only (Table Purchase required)
General Admission 1pm – 6pm (Early Arrival Suggested)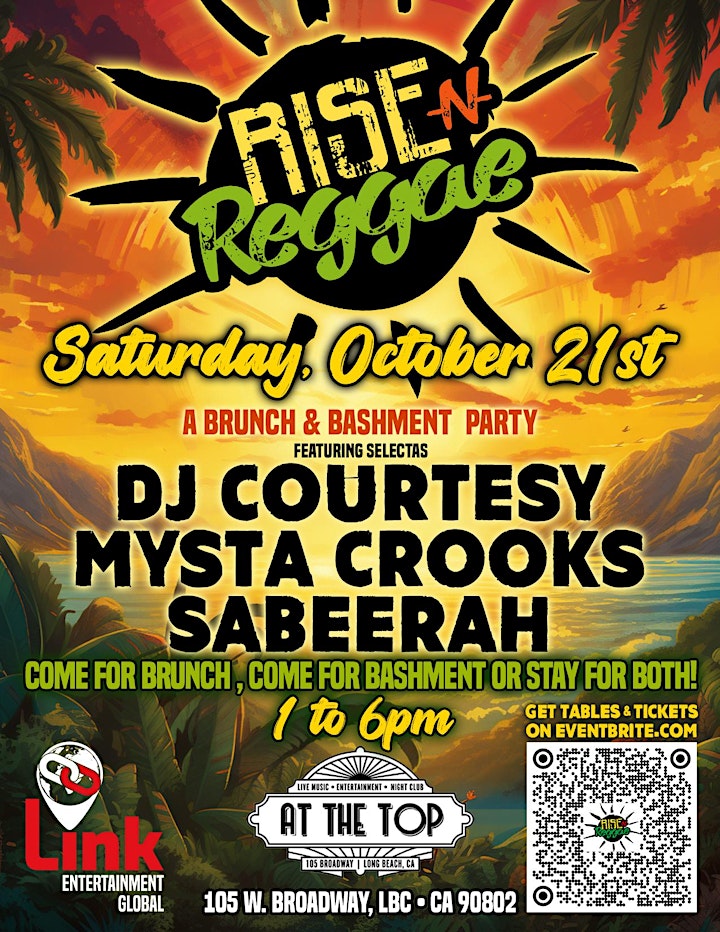 Rise N Reggae Brunch Event Highlights:
Top Selectas: Immerse yourself in the pulsating beats and energetic sounds of some the Baddest DJs in the industry…. Mystacrooks, Dj Sabeerah , & Dj Courtesy!
Caribbean Inspired Brunch: Brunch will only be served from 1-3pm and to those who have bought tables. You will have the option to order from a Caribbean inspired menu that includes; jerk chicken and waffles, curry chicken and coconut rice, jerk chicken and rice & peas, or veggie curry and coconut rice for our vegan family. For the Bashment crew, we will have delicious Jamaican patties for sale from 3-6pm.
Bashment Party: Bashment is Jamaican slang for party or rave. Come for the PARTY from 1pm-6pm, enjoy the brunch from 1-3pm. Get ready to let loose and let the riddim move you.
Refreshments: Quench your thirst with a variety of tropical drinks, including our infamous rum punch, piña coladas, and other Caribbean-inspired cocktails. Non-alcoholic options will also be available for those who prefer them.
Ticket Information:
VIP Table Package: $30 – $90 (includes express entry, VIP seating) Brunch served 1pm -3pm.
Early Bird General Admission: $10 – 1pm – 6pm
General Admission: $15 at the door
No Refunds accepted, you are able to transfer tickets or gain credit for the next event
Should you have any questions or need further assistance, feel free to reach out to us by email at RiseNReggae2@gmail.com or call us at 323-498-1045.
Bring your crew & bring the energy at Rise N Reggae Brunch.
#DancehallVibesLB #AtTheTopLongBeach #FeelTheRhythm
#RiseNReggaeBrunch
Check Us Out on Instagram