Get ready for Soul Twist Tuesdays, a Groovy Tuesday Night filled with Hilarious Stand-Up Comedy, Soulful Jazz music, and live R&B, at Tap 24 Bar & Grill in LB.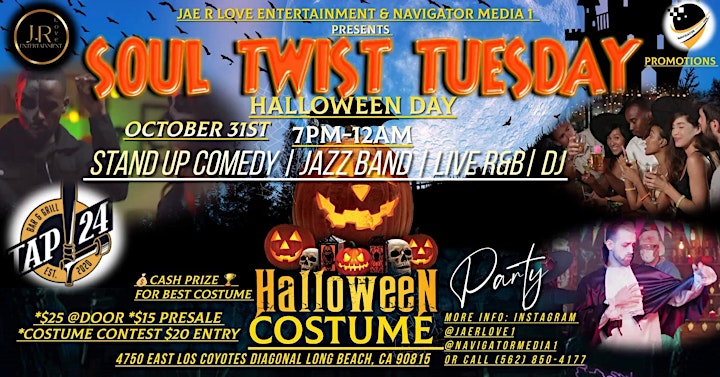 Soul Twist Tuesdays- Stand-Up Comedy | Jazz Band | Live R&B | DJ
HEADLINING
CELEBRITY GUEST SCRUNCHO THE COMEDIAN
Come join us at
Tap 24 Bar & Grill
for a night filled with laughter, smooth tunes, and soulful vibes! Every Tuesday, we bring you a fantastic lineup of stand-up comedians, a talented jazz band, live R&B performances, and a DJ spinning the best tracks. Get ready to be entertained and have a great time with friends and loved ones. Whether you're a fan of comedy, jazz, R&B, or just want to unwind and dance, this event has something for everyone. Located at
Tap 24 Bar & Grill
, the ambiance is cozy and intimate, perfect for a night out. So grab a drink, find a comfortable spot, and get ready to enjoy an unforgettable evening of laughter, music, and good vibes. Don't miss out on
Soul Twist Tuesdays
– the ultimate combination of comedy, jazz, R&B, and DJ beats. See you there!